TOUR NEWS - EGYPT JANUARY 2003
In January 2003 there were 16 participants on the tour with 11 coming from the Sydney area, 2 from Taree and 3 from Perth. The group met up for the first time in Singapore, although we had to wait till Cairo to catch up with Bob Snow who had already spent a few weeks travelling in Egypt independently.
We arrived to find the weather incredibly mild and unusually sunny for this time of year, particularly in comparison with the previous January. At Saqqara we were lucky enough to have a tour of the tomb of Mereruka by the Australian Professor Naguib Kanawati of Macquarie University. On the Meidum and Dahshur day we climbed in and out of two pyramids and made our way down the robber's hole into Mastaba 17 to see the sarcophagus of the owner. It was on this day that I received my nickname of 'Step Master' since we all discovered muscles that we had not used for some time.
There was such a thick fog when we got to Giza that we couldn't even see the Great Pyramid at first despite the fact that we were standing right next to it! Eventually the sky cleared as can be seen in our group photo taken in front of the sphinx: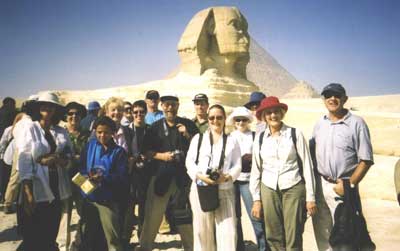 Members of the January 2003 group in front of the sphinx (from left): Margaret, Gladys, an Egyptian entrepreneur, Christine, Lyn, Michelle, Malcolm, Bob, John, Karen, Ali, Robert, Adrienne and Don © Michael Birrell
In Luxor we stayed at the Gezira Hotel, enjoying their special hospitality which included all the staff coming out to wave us off on our departure for Aswan! The walk across the hills to Deir el-Bahri, as always, provided a great view across West Thebes and into the Valley of the Kings. At Karnak we spent about 6 hours walking around the ruins, enjoying a wander around the hypostyle hall.
In general tourist numbers were down because of the situation in the Persian Gulf, but at Medinet Habu we arrived on the same day as a large group of Egyptian students who appeared to show more interest in us than in the monuments! Aswan was also busy with Egyptian holiday makers - we enjoyed a few felucca rides on the Nile and our visit to Philae. We stayed at the Cleopatra Hotel, located close to the main tourist markets and a short walk from the Nile.
In Cairo we spent a day in the Cairo Museum with a break to visit the bookshop of the American University. On the following day we walked from the citadel to the Khan el-Khalili markets, climbing the minaret of the Blue Mosque on the way for a superb view of the old city and glimpses of the Pyramids of Giza on the horizon. The last minute shopping in the Khan always provides challenges for packing the suitcase for the return to Australia.
Michael Birrell