ABOUT US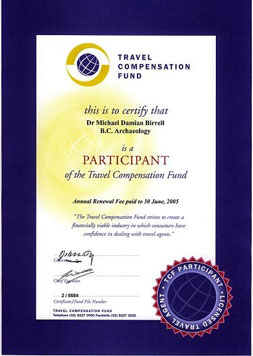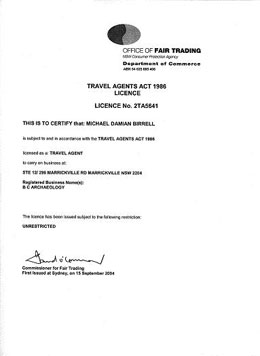 Welcome to 'B.C. Archaeology', the Australian travel company with an emphasis on exploring the cultures and archaeology of the ancient world. Our aim is to provide holidays which are enjoyable learning experiences at an affordable price.
The Company
'B.C. Archaeology' is a small travel company which was founded by Dr Michael Birrell, an Australian historian and archaeologist, in 2000. He saw a need for a specialised inexpensive tour experience which catered to those with a desire to travel and learn about archaeology.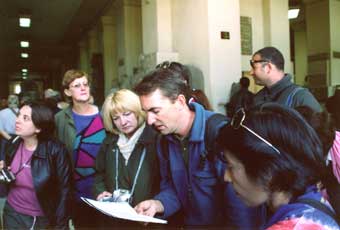 Studying the Restoration Stela of Tutankhamun in the Cairo Museum © Robert Snow
The 'B.C. Archaeology' tour programs are specially designed to have an emphasis on the major historical sites of a country or region, and often incorporate a particular theme or historical period. What sets us apart from other tour companies is our emphasis on providing an enjoyable educational experience, small tour group size, and the use of university trained historians and archaeologists as lecturers and guides.
We aim to provide a competent personal service from first encounter to the completion of each tour. Many clients appear to appreciate our attention to detail - that must be why they keep coming back!
The Tours
The 'B.C. Archaeology' Study Tour is designed to offer more than the usual tour program. Our aim is to combine an enjoyable travel experience with an opportunity to learn about the history and archaeology of the places we visit. We provide a more intensive study of the ancient monuments than the usual tour by spending longer at each of the archaeological sites we visit. The 'Study Tour' format means that we can discuss the historical significance of a site in depth and our lecturers aim to provide a detailed description of the monuments and their historical contexts.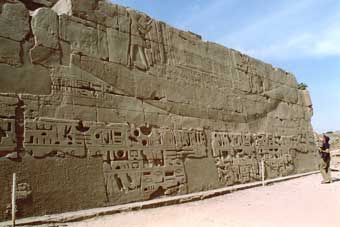 Dr Birrell discussing the Third Pylon at Karnak © Robert Snow
Our tours are good value for money with no hidden costs or extra charges. The programs are run on a 'Bed and Breakfast' basis. Each room is well maintained and normally has private en suite bathroom and air-conditioning. Accommodation is on a twin-share basis, unless a single supplement is pre-arranged. A person travelling on their own will never need to pay extra for accommodation. The hotels and sites are usually close to a range of inexpensive restaurants and cafés which mean that additional costs can be kept to a minimum. There are no set menu meals and no requirements to eat with the group - additional expenses are therefore entirely at the discretion of the individual.
The programs are designed to minimise costs and therefore be accessible to everyone. The price of each tour includes:
1. Return economy class flights from Australia on Singapore Airlines (it is possible, however, to request a 'Land Only' Tour which does not include the international flight component).
2. Internal flights, train and boat travel where required
3. Twin-share accommodation in comfortable 3-star hotels
4. Breakfasts (usually continental style) as provided by the hotels
5. Transport by air-conditioned bus or boat where required
6. Entry to all sites and museums mentioned in the itinerary
7. Tips and gratuities to porters and additional guides
8. The Visas
In addition to studying the ancient monuments, our tours give participants an opportunity to experience and learn about the local cultures of the countries we visit. So often, holiday packages stay in Western style hotels where the participants never really experience the local culture, meet local people or eat the local cuisine. 'B.C. Archaeology' tours provide participants with ample opportunities to talk to local people and we always encourage our guests to sample the local food and to get more out of their travelling experience. We tend to stay in small family run hotels which enable the participants to experience the hospitality and customs of the local people. We also tend to have longer stays and fewer moves, creating a more relaxed tour with less packing and unpacking.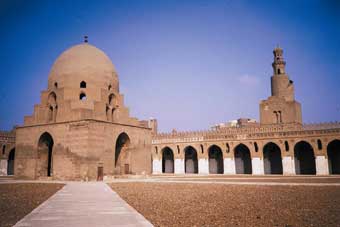 The Mosque of Ibn Tulun in Cairo © Michael Birrell
The Groups
'B.C. Archaeology' Study Tours are designed as educational experiences for anyone with a fascination for ancient history and archaeology. Our aim is to provide an in-depth and scholarly appreciation of the ancient monuments and artefacts which is both accessible and easy to understand. In order to give the tours a more relaxed feeling, Study Group numbers are generally limited to 18 people. This provides an opportunity for discussion, and means that all members of the group can hear and see what is being discussed. It also means that we can better get to know other members of the group during our social activities.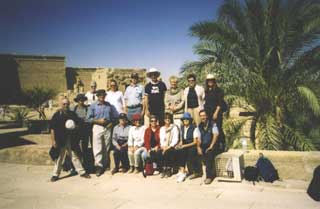 A 'B.C. Archaeology' group at Philae Temple © Michael Birrell
Participants in the Study Tours come from all social backgrounds and range in age from 18 to 80. Many previous attendees have been studying at University but the programs suit anyone with a fascination for the ancient world - there is no assumed knowledge. Extensive notes and plans are provided for each site to facilitate learning and appreciation of the places that are visited.
Participants should have general fitness and mobility as the tours include some walking each day. We take pride in spending more time than the average tour exploring the ancient sites
The Lecturers and Guides
Each Study Tour is accompanied by two guides. This always includes a university qualified historian or archaeologist from Australia with expertise in the archaeology and history of the Ancient World, and also a local guide who is there to assist with other needs.
The main tour leader for all groups to the Middle East and North Africa is Dr Michael Birrell from Sydney Australia. Michael has a 4-year B.A. Honours Degree in Archaeology from the University of Sydney and an M.A. and a PhD in Egyptology from Macquarie University, Sydney. He has been a Macquarie University Lecturer and Tutor since 1995 with extensive experience in teaching Undergraduate and Postgraduate courses in Archaeology and History. He has also taught Adult Education and Continuing Education course since 1992 at a number of different universities. Dr Birrell is an experienced guide and tour leader who worked with a number of other companies before setting up 'B.C. Archaeology Tours'. He has also travelled widely in Egypt, the Near East and in Southern Asia and speaks Arabic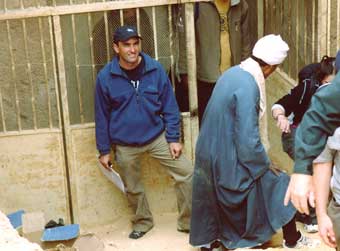 Dr Michael Birrell - tour leader for B.C. Archaeology © Robert Snow
Dr Birrell is a trained and experienced field archaeologist who has worked at many sites in both Egypt and Israel. This includes the following sites in Egypt: the Early Dynastic site of Helwan, the Old Kingdom site of Gebel Hawawish, the Amarna Period site of Awlad Azzaz and the Roman Period site of Ismant el-Kharab in Dakhleh Oasis. In Israel he has worked at the following archaeological sites: Megiddo, Tell Yoqne'am, Tell Nami and Tell Lachish. Dr Birrell maintains close contacts with ongoing archaeological fieldwork and is often able to include visits to currently operating excavations in his tour programs. This enables tour members to really see and experience something more than just the standard archaeological sites.
B.C. Archaeology always employs expert local guides to assist with tour programs. The Company is very careful to choose qualified and experienced guides who have a passion for history, who have good communication skills, and who do not act on a commission basis.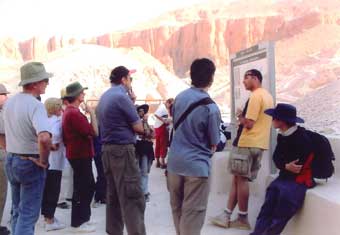 Amr Mohamed (in yellow) discussing a tomb in the Valley of the Kings © Vesna James
For more information please contact:

Dr Michael Birrell
B.C. Archaeology Travel
PO Box 1236
Mittagong NSW 2575
Australia
Email: info@bcarchaeology.com
Facebook: www.facebook.com/bcarchaeology/
Mobile: +61 405 492 946