TOUR NEWS - EGYPT FEBRUARY 2005
The February 2005 tour of Egypt was another Amarna program and consisted of a small group of seven participants and the guides: Marion and Alison Berry, Brian and Jean Hart from Melbourne, Brenda Hill and Coral Searle. The group combined a keen interest in Egypt with a determination to shop.
Our tour began in Cairo, where we stayed once again at the Pearl Hotel in the southern suburb of Maadi. We visited Saqqara and Giza, having lunch at a small restaurant with superb views of the sphinx and pyramids. We had two days in the Fayyum Oasis looking at Middle Kingdom pyramids at Lisht, Lahun and Hawara, as well as seeing the interesting and picturesque ruins of the Roman period town of Karanis.
We then headed south by train to Minya, staying at the Cleopatra Hotel. This hotel saw a number of wedding parties during our stay and some of our group members are now immortalised in various wedding photos and videos. From Minya we saw the awe inspiring temple of Nero at Akhoris, and visited the beautiful Middle Kingdom tombs at Beni Hasan.
Two days were then spent exploring the ruins of Amarna, ancient capital of Akhenaten. We descended into the Royal Tomb, and took our time to wander around the private tombs, enjoying their unique scenes of court life in the mid-18th Dynasty. A local inspector gave us a chance to see the infrequently visited Workman's Village at Amarna which required a drive and walk into the desert plain, giving us all a sense of the desolation and isolation of this important site.
In Luxor we stayed at the Nile Valley Hotel on the West Bank. We visited the Valley of the Kings and Deir el-Bahri amongst a number of sites. Our regular lunch spot was the Medinet Habu café with its excellent food and magical view of the temple of Ramesses III. Here we were entertained daily by a local merchant, nicknamed 'Scarf Man' by the group and somehow converted into a new Egyptian superhero. We explored Karnak, Luxor temple, the private tombs of the Nobles and went for a pleasant felucca sailboat ride on the Nile. A daytrip to el-Kab enabled us to enjoy the quiet isolation of this beautiful place with its fascinating temple, tombs and rock art.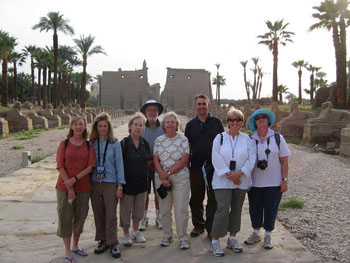 The February 2005 group in front of Luxor Temple © Michael Birrell
Upon our return to Cairo we had lunch and explored some of the highlights of Islamic Cairo, the more intrepid members of the group ascending the minaret of the Mosque of el-Ghouri for superb views across the old city towards the citadel. Shopping, as ever, rounded off the day. A last visit to the Cairo Museum completed the tour.
Michael Birrell