TOUR NEWS - EGYPT OCTOBER 2004
The October-November 2004 tour of Egypt was a great deal of fun with 10 enthusiastic participants: Gloria Arentz, Robin Callister, Kate Edwards, Gillian Irvine, Harley Parker, Kerry and Janet Peadon, Julie Scott, Fay Smede, and Wendy Whitaker.
Our days spent in Cairo were very fine and clear, with visits to Saqqara, Meidum and Dahshur and Giza to observe the gradual evolution of the pyramids from their humble beginnings to the magnificent structures of the 4th Dynasty. Time was also found, of course, for shopping in the Khan el-Khalilli markets. During our time in Cairo we stayed in Maadi with its wide range of quality restaurants, internet facilities and shops.
We then flew to Luxor and spent 7 days visiting the local ruins. We stayed at the Nile Valley Hotel on the West Bank with its magnificent roof top views over the river towards Luxor Temple. The first day we rested and had a felucca ride to watch the sunset, the sailing boat moving only very slowly as there was hardly a breeze. The following morning we had an early start to walk across the Theban hills for a clear view over the Valley and the magical temple of Queen Hatshepsut. The recently newly restored Third Terrace enables us to see the building in its original form.
We travelled by motor boat to Karnak to spend a day touring the ruins - we found the temple relatively quiet, making this a pleasant change from the usual crush. Other temples visited in the area included Luxor Temple, the Ramesseum, and the temple of Ramesses III at Medinet Habu.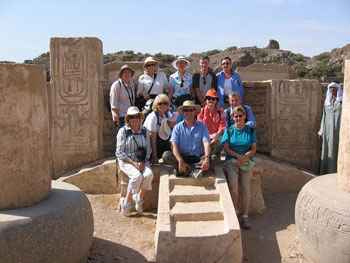 The October 2004 group in the Palace of Ramesses III at Medinet Habu © Michael Birrell
While in Luxor we also went for a camel ride through the village, an experience much enjoyed by all. At the hotel, we saw a show of local musicians and dancers, with some of our group getting up on the dance floor.
In Aswan we went for a felucca ride around the islands. Unfortunately there was virtually no wind at all and Amr (the Egyptian guide) valiantly volunteered to help row us across the river. We visited the ruins on Elephantine Island and the botanical gardens on Kitchener's Island.
In Cairo we walked through the Islamic quarter - because it was the feast of Ramadan the streets were quiet and far less smoggy than usual. Most of the group climbed a minaret for a view across the old quarter. A coffee in the Naguib Mahfouz café in the Khan was the perfect end to the program.
Michael Birrell