TOUR NEWS - EGYPT SEPTEMBER 2001
The first program in September 2001 was immediately preceded by the September 11 attacks in New York and Washington. This caused a great deal of concern but all participants decided that these dramatic events would have no real effects on our travels and the program went ahead as scheduled. We had a great time in Egypt with many locals grateful that we had come. Included in the select group were: Heidi Sinclair, Kathryn Mc Dowell, Judy Wickert, Hilde Rubie, Philip Rubie and Marissa Yeo.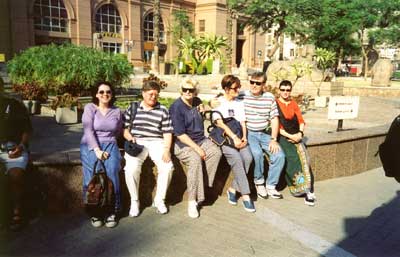 The 2001 group at the Museum: Heidi, Kate, Judy, Hilde, Philip and Marissa. © Michael Birrell
The tour included time staying at Cairo, Luxor and Aswan, with day-trips out to the nearby monuments by mini-bus. We saw the pyramids at Saqqara, Meidum, Dahshur and at Abu Sir walked across the desert to see the sun-temples of the Fifth Dynasty. At Giza we toured the site with Heidi and Marissa disappearing for some time on the backs of camels.
In Luxor we stayed at the little family run hotel called the Amun Gezira located on the west bank. The hotel has a beautiful garden and wide verandas enabling guests to enjoy a G&T in the cool of the evening. Most days we were visiting the nearby temples and tombs with a ferry trip taking us to the more touristy east bank. The early morning walk across the Theban hills to the temple of Queen Hatshepsut at Deir el-Bahri gave us a beautiful view of the entire area. We explored many of the spectacular remains of the Luxor area, spending a day wandering around the ruins of Karnak and exploring the tombs in the Valley of the Kings. A day trip took us to see the awesome temple of Dendera.
By bus we travelled south to Aswan, stopping to look at the magnificent temple of Edfu. We stayed a few days in Aswan to explore the sites in the local area. We went for a felucca ride on the Nile and wandered around the temples of Philae and Kalabsha. Upon our return to Cairo we visited the museum and spent a day in the old quarter exploring mosques and the restored medieval house known as the Beit Sihaimi.
Michael Birrell