TOUR NEWS - EGYPT SEPTEMBER 2003
The September 2003 tour consisted of a small (but select) group with a fascination for Egypt. This included Paul and Lindsay Blackburn-Hart, Laura Bates, George Bounos and Linda and Keith Kam. Accompanying the group were Dr Michael Birrell and Amr Mohamed.
The weather was unseasonably hot in Egypt for this trip, part of the general heat wave that had hit Europe during the northern summer. We therefore tended to mainly do most of our sight seeing in the morning and early afternoon and came back to our hotel to rest and relax. From Cairo we explored Saqqara, Meidum, Dahshur and Giza. At Giza Lindsay and George disappeared on camels to explore the desert.
In Luxor we stayed at the Gezira Hotel near the river. The food at the hotel is excellent and at breakfast you can see Luxor temple from the rooftop restaurant. We explored Karnak and Luxor Temple and went for a felucca ride in the evening to watch the sunset. Afternoon tea in the Winter Palace Hotel was very civilized but our favourite place to eat was at the Medinet Habu café on the west bank with views of the spectacular temple of Ramesses III: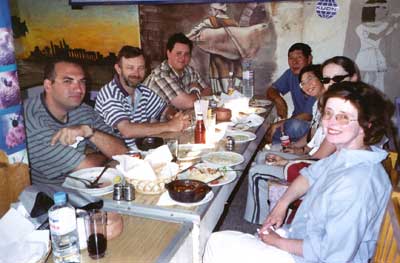 The September 2003 group in a café at Luxor: Amr, Paul, George, Keith, Linda, Laura and Lindsay © Michael Birrell
In Aswan we stayed at the Cleopatra Hotel where Amr Mohamed got swimming lessons from the tour group. We enjoyed the climb to the Dome of the Winds for a superb view of the river and also visited the botanical gardens by felucca. Upon our return to Cairo we had a day exploring the Museum and climbed the minaret of the Blue Mosque for a view over the old quarter.
Michael Birrell