TOUR NEWS - A SHORT EXCURSION IN ITALY 2006
A dedicated group continued our adventures in Italy for 4 nights: this included Kim and Chris Shephard, Bryan and Caroline Riddell, Vesna james, Philippa Shaw, Steve Darlow, Isobel Stening and Lidia Peruzzi. We were also joined by Ian and Diane Casey. We travelled from Rome International Airport south to Naples where we saw the ruins of Herculaneum. A rain shower managed to deter most tourists, and when the clouds cleared we almost had the place to ourselves. We took the entire afternoon looking at the houses before heading to our Naples Hotel. The following day was spent in Pompeii. First thing in the morning we went to see the Roman farmhouse at Boscoreale with its fascinating collection of objects of daily life. We arrived in Pompeii about 11am and spent the rest of the day (7 hours!) wandering around the site. We explored the Forum and then walked up to the Villa of the Mysteries. From here we walked along the walls of the city and down to the theatre area. Late in the day we travelled back to Rome, exhausted but content that we had really seen everything.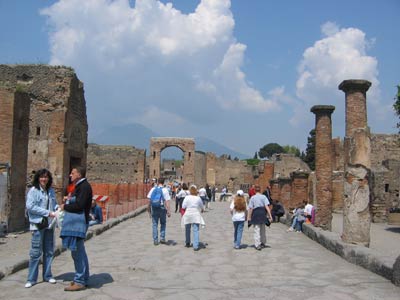 Exploring the ruins of Pompeii
We then had two days in Rome - this gave us the opportunity to do some walking tours of the city. We saw the Ara Pacis (shrine of Peace built by Augustus) in its brand new museum which opened the day we arrived. We also walked through the Campus Martius. In the afternoon we saw the superb collection in the Palazzo Massimo. The following day we went for a walk through the Roman and Imperial Forums and saw the Colosseum.
Michael Birrell